If you want to live through the end of the world, you have to choose the right class. Project Zomboid has been in early access for a long time, but with the release of build 41, it's quickly becoming one of the most realistic and popular zombie survival games on Steam. This zombie survival RPG has gotten a new feature with this new build: multiplayer.
Whether you're new to Project Zomboid or just coming back to try out the new features, it can be hard to stay alive on the streets of Knox County. But if your character has the right experience and skills, the end of the world might not be so bad for them.
Engineer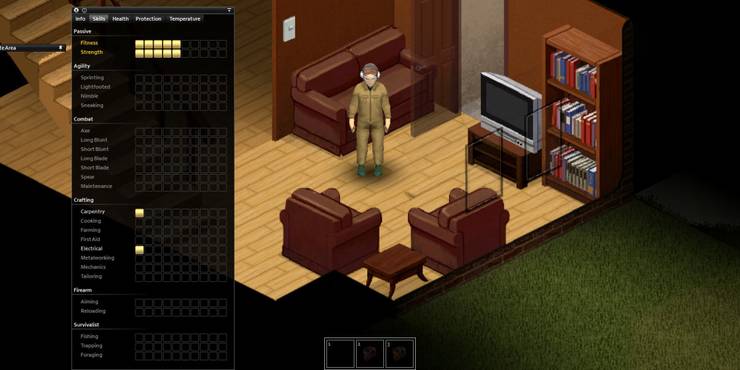 If you'd rather outsmart zombies than hit them over the head with a bat or kill them with a gun, then becoming an engineer might be the perfect job for you. These characters start out with an extra skill in both electricity and carpentry and a small boost to training those skills.
But what makes this job special is that they will be able to make traps and bombs right from the start. Some of these can only be made by them, and no one else in the game can learn how to make them.
Carpenter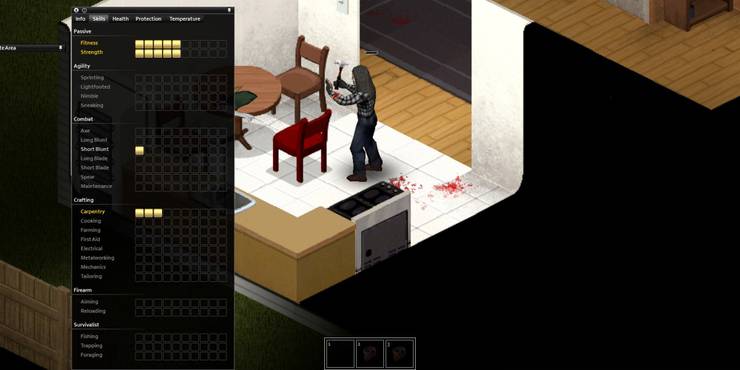 In Project Zomboid's sandbox world, you can build and change your base however you want, as long as you have the skills to do so. The first step to becoming a carpenter is to have three skills in carpentry and a lot of experience in it.
You also start with one skill and a small experience boost for short blunt weapons, which are one of the most common melee weapons in the game. On top of that, this job gives you two more points to spend on your traits.
Repairman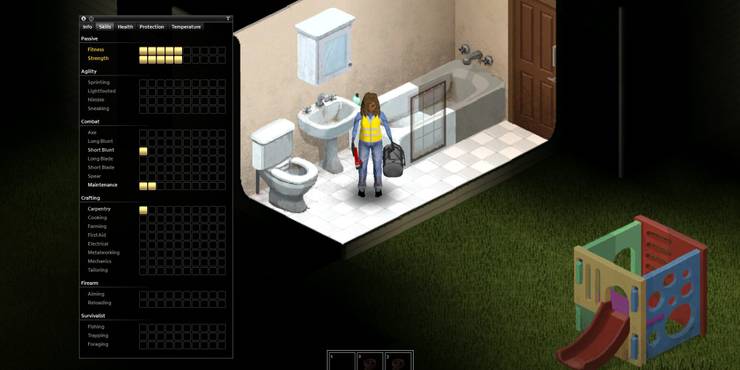 As you hit zombies with your melee weapon of choice, it will eventually lose its strength and break, forcing you to either fix it or find a new one. Some of the best weapons in the game, like the katana, can't be fixed. This makes the problem even worse.
If you have a high maintenance skill, your weapons will last longer. Being a repairman gives you a good starting point and makes it easier to learn maintenance. If you spawn in Riverside, you might also start in a construction site or a gas station. Both of these places have valuable loot in the beginning.
Security Guard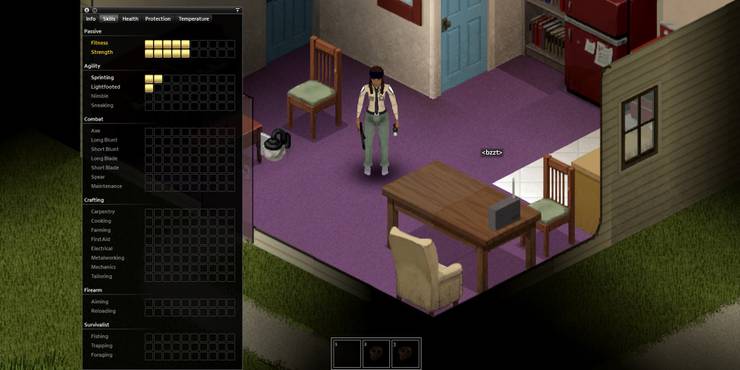 Some people like to set up a base and protect it, but others might handle the end of the world in a different way. If you like being on the move all the time, staying away from zombies, and looking for food and water, Security Guard has some good bonuses for you.
They start with two points in sprinting and one point in lightfooted, so it will be easier for them to get away from the crowds chasing after them. They also get the perk "night owl," which means they need less sleep and are more sensitive to sounds while sleeping. This makes it less likely that a wandering zombie will catch them by surprise when they knock on your door.
Lumberjack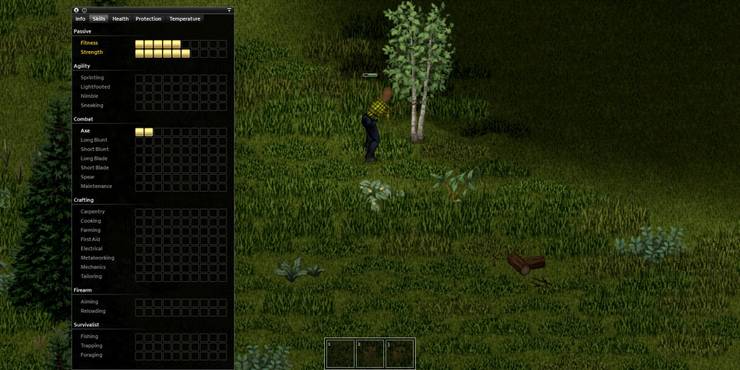 Everyone likes axes, and in Project Zomboid, they are one of the best weapons you can use to fight the zombies that are coming. The biggest problem with axes is that they use up more stamina and swing more slowly than most other melee weapons in the game.
Lumberjacks know how to use an axe well. They are much faster at both cutting down trees to build with and swinging their axes at zombies' heads. They get an extra point in the strength skill and can move faster in the woods.
Burglar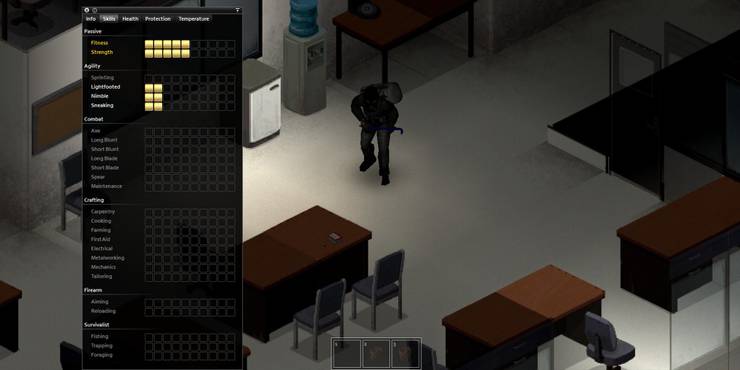 In the beginning of the game, one of the hardest things to find is a vehicle that works. And most of the time, the keys aren't with cars that are in good shape. You can either get better at mechanics and electricity to hotwire the car, or you can start as a thief.
With this job, you don't have to be skilled to hotwire cars. They are also the best choice for a sneaky start because they have two extra skill points in sneaking, lightfootedness, and nimbleness.
Fire Officer
Not only is it fun to play as a first responder in a post-apocalyptic setting, but it also shows that they know how to handle themselves well in bad situations. In Project Zomboid, being a fire officer is one of the best starting jobs for many reasons.
They get an extra skill point in axe, sprinting, strength, and fitness, making them one of the most physically capable characters in the game. Also, if you start 8 Ball Pool game in Rosewood, you might spawn in the fire station, which has a lot of good loot and is a great place to stay early in the game.
Park Ranger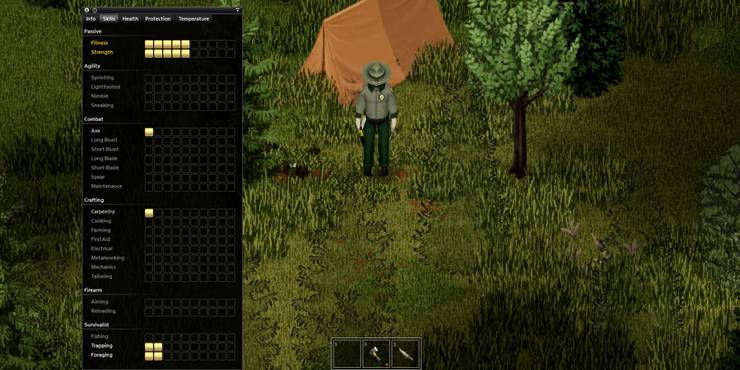 If you want to spend your last days in a zombie-infested world out in the wilderness, the park ranger's toolkit has everything you need to live on your own. They start out with one skill point in axe and woodworking and two skill points in hunting and trapping.
They also tend to spawn in houses on the outskirts of big cities that are not near anyone else. With their starting skills, it's easy to go into the woods and live off the land while avoiding most of the zombies.
Police Officer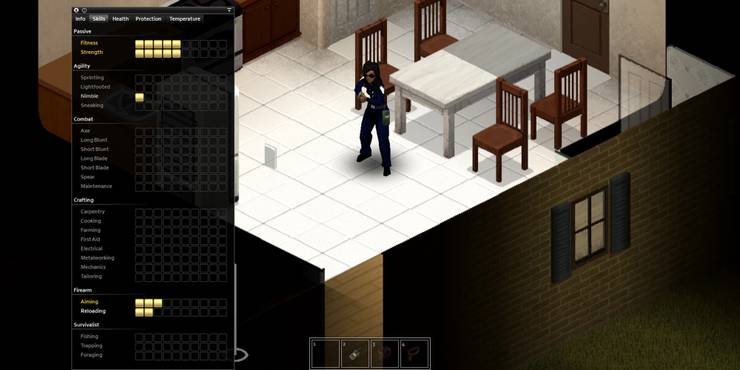 Firearms are not good Project Zomboid early-game weapons, as many players may have learned the hard way. If you don't have good aim, it will be hard to hit the zombies, and the guns are loud enough to draw a lot of zombies to your location.
If you start out as a police officer, you will have three skills in aiming and one skill in being quick and reloading. This will make it much easier to hit your targets while staying safe. You can also spawn in police stations, where you can stock up on weapons and prepare to meet your death.
Veteran
Zombie hordes are scary, and not many people have the guts to face them and keep their minds made up. When fighting zombies, getting scared will make you much less effective and is usually the main reason why you die.
Veterans have been through so much trouble that they have become numb to it and can't be scared by most things. They also get two skill points for aiming and reloading, which makes them much better at using guns than most jobs.